Dragonflies
Dragonflies are worldwide in distribution with more than 5,000 described species. There are about 450 species of dragonflies in North America. Dragonfly adults are medium to large insects. In fact, a fossilized dragonfly from 250 million years ago has a wingspan of 28 inches. Fortunately, present-day dragonflies are considerably smaller. Dragonfly adults are often brightly colored and have a long slender abdomen. They also have two pair of long, slender wings with many net-like veins. The wings do not fold and are held outstretched when at rest. Adults are usually found near water but are good fliers and may range several miles. They are active during the day, and can be observed hunting and mating. Males of some species are territorial, defending their domain from other males who enter.
Dragonfly Adult (U.F. Dept. of Entomology & Nematology)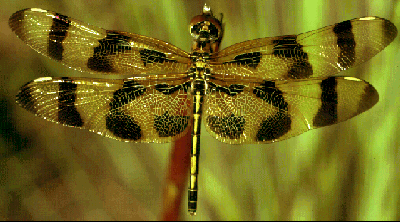 Immature stages of dragonflies are called nymphs (or naiads). Nymphs are entirely aquatic, and are found on submerged vegetation and the bottom of ponds and marshes. Both the immature and adult stages are predaceous, often feeding on mosquitoes. Nymphs capture and feed on mosquito larvae while adults capture mosquito adults, among other small insects, while in flight. Dragonfly adults are often seen swarming. These swarms are associated with a feeding frenzy rather than mating.
Dragonfly nymph (naiad) (C.H. Kennedy)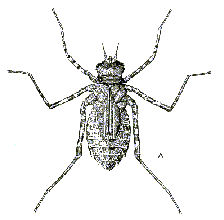 Damselflies are closely related to the dragonflies. However, damselfly adults are generally more slender and hold their wings together over their body when at rest. Damselfly adults and nymphs are also important, general predators.
Damselfly Adult (U.F. Dept. of Entomology & Nematology)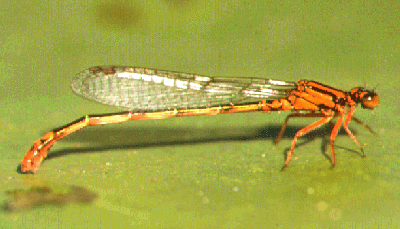 DRAGONFLIES - Special Concern
Ophiogomphus anomalis Harvey extra-striped snaketail
Ophiogomphus susbehcha Vogt & Smith St. Croix snaketail

Minnesota
Cook
What's an Odonate?
Dragonflies and damselflies together make up the insect order Odonata. The Greek word "odon" means tooth, and the name here refers to the toothed jaws of these predatory insects. Fortunately for us, dragonflies and damselflies use their formidable mandibles on mosquitoes, midges, and other pest insects. Many odonate species are common and well known, such as the Common Green Darner dragonfly and the Emerald Jewelwing damselfly. Odonates are characterized by their long narrow abdomens, two pairs of large richly veined wings, and large compound eyes. They are often strikingly colored in bright green, blue, red, yellow, and violet. They are very good fliers, with dragonflies being much stronger on the wing than damselflies.
Dragonflies and damselflies are easily distinguished from one another. Dragonflies are generally larger, stouter, in addition to being stronger fliers. The eyes of dragonflies are so large they often touch. Damselfly eyes are proportionally smaller than those of dragonflies and never touch. Dragonflies spend a great deal of time in the air, hunting, defending territory, and patrolling for a mate. When they do perch, their wings are spread open. This is in contrast to damselflies which hold their wings together above the body when at rest, except in the damselfly group known as spreadwings. As the name implies, spreadwings do not fold their wings over the body, instead the wings rest slightly spread apart.