Rickert Nature Preserve
Lobelia Cardinalis
Cardinal Flower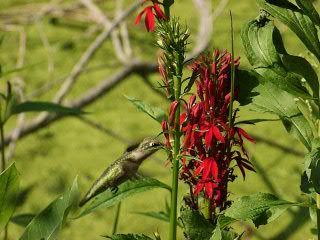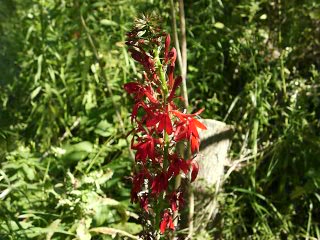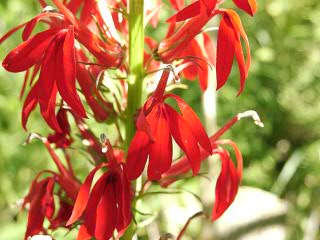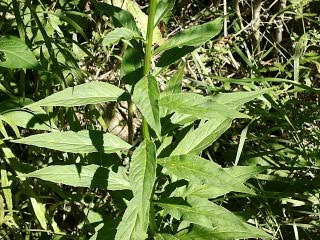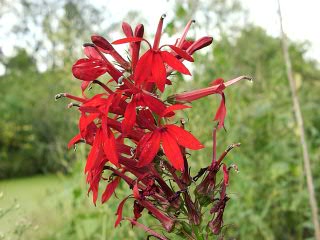 This plant has many brilliant red, large, tubular flowers in an elongated cluster on a simple erect stalk which is 2-4' (60-120cm) in height. The flowers are 11/2" (3.8cm) long, 5 petalled with 2 lips;upper with 2 lobes, lower with 3. The leaves are up to 6" (15cm) long, alternate, lancelot, toothed. This plant can be found in low grounds, damp sites, especially along streams. The flower of this plant is preeminently pollinated by hummingbirds.
Flowering in summer to fall, it is infrequent throughout Indiana on low grounds in woods, along ditches, and on the borders of lakes and ponds. It was more common before the extensive destruction of wetlands. It produces brilliant red flowers along the upper 1/3 of stems that can exceed 4 feet. Each flower is 2-lipped with the upper lip erect while the lower lip is spreading and 3-cleft; a white-flowered form is rarely found. Formerly used as a medicine, a practice that was discouraged due to the adverse symptoms caused by overdoses. It makes an impressive addition to any moist, semi-shaded garden site.
General poisoning notes for Lobelia cardinalis
Cardinalflower (Lobelia cardinalis) is a native herb that grows along riverbanks and is occasionally found in garden flower beds as a perennial. This plant contains lobeline, which caused poisoning when misused as a home medicine. See the notes under Indian-tobacco ( Lobelia inflata) for more information.
Lobelia cardinalis . . CARDINAL FLOWER 3 to 4 ft. . . Sun to mod. shade . . Avg. to wet soil . . Native . . Tall dense spikes of very, very red tubular flowers in late summer. Dark green foliage. Prefers even moisture. Attracts butterflies and hummingbirds.
Cardinal Flowers are a brilliant deep red that almost seems to glow. Their native habitat is moist to wet, but they will do fine in average soil if given some shade and watered during dry periods. Separate the clumps of small plants in early spring to keep the plants vigorous. Do not mulch in winter. . . #1087 . . Zones 3 to 9