Rickert Nature Preserve
Tragopogon Pratensis
Goats Beard
Meadow Salsifify
Jack-go-to-bed-at-noon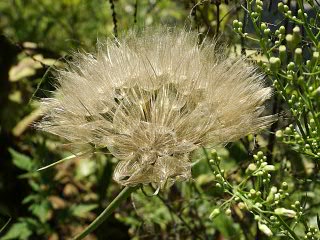 Herbaceous perennial to 2 m.
Flowers in frothy pyramidal panacles to 50 cms, large leaves
Zone 4
Season = late spring
Height = 48-60 inches
Hardiness = USDA Hardiness Zone 3-7
Flower Color = creamy white
Soil = moist, rich soil
Exposure = partial shade
Propagation = seed, division in spring
North Carolina Regions = Mountains
Comments = Males and females are separate in Goat's beard, with the male flowers showier, but nurseries do not separate the male from female plants. Goat's bear grows into a large clump which makes a bold display in a shady garden.
Origin = North America, North Carolina
This plant is the caterpillar host for the Dusky Azure (Celastrina nigra Edwards) butterfly.
Special thanks to Pierre Guertin for assistance with identification.