Ravenna Grass - Erianthus ravennae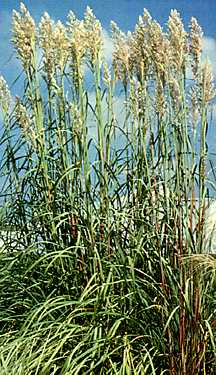 Upright spreading flowers. Grows 9 to 12 feet high. Native - gray-green folliage - Average soil is best - (I personnally have found this plant with it feet in water.) One of the hardiest of the taller grasses.
This is the plant that Jeremy and I found growing about 80 miles south of Twin Cities in a ditch. We were impressed with it beauty. There was a stand about 100 feet long and about 12 feet high. We managed to grow some in my back yard in black pots. Later we transplanted to the waters edge in Turtle Pond. They are doing well and spreading. Still only about 7 feet tall.
Now its been about four years since I transplanted the two black buckets to the ponds edge. There are two strong stands of plants now. Each stand is about eight feet wide. The plants are now about 8' tall. Each year the new stalks grow about one foot taller. The red-winged black birds always land on the stalks as they sway in the wind. Given its choice in the direction that this plant could spread its rhizomes, its seems to prefer not to be underwater, but rather within ten feet of the waters edge. It seems to like it roots wet.

Erianthus ravennae--Ravenna Grass
Hardiness Zone: 5 to 10
Height: 12 ft Spacing: 3 ft
Type: herbaceous perennial
Flower: White
Comments: Ravenna Grass is a very tall, large plant. Large, plume-like flowers form in late summer and these can be dried for indoor arrangements. In very cold climates, early cold temperatures can interfere with flowering. The leaves turn dark brown in the fall. The plant forms clumps of upright stems, 3 to 5 feet wide.
Ravenna Grass can be used as a background plant.
Propagation: Propagation is by division.


Back to Plants